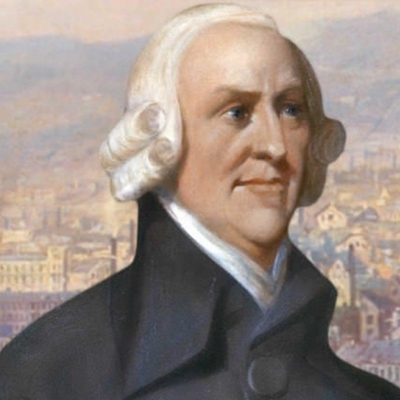 Smith, Adam
Adam Smith (1723-1790), một nhà triết học và kinh tế học nổi tiếng người Scotland, nổi tiếng với tác phẩm An Inquiry into the Nature and Causes of The Wealth of Nations (Tìm hiểu về bản chất và của cải của các quốc gia) (1776), một trong những tác phẩm có ảnh hưởng nhất từng được viết ra từ xưa đến nay. Smith, dựa trên nhận thức hoàn toàn mới về cách thức hoạt động của xã hội hiện đại, đã đưa tư duy của chúng ta về đời sống kinh tế từ hình thức cổ đại đến một hình thức khác hẳn.
Early life
Smith was born in Kirkcaldy, in Fife, Scotland. His father, also Adam Smith, was a Scottish Writer to the Signet (senior solicitor), advocate and prosecutor (judge advocate) and also served as comptroller of the customs in Kirkcaldy.[12] Smith's mother was born Margaret Douglas, daughter of the landed Robert Douglas of Strathendry, also in Fife; she married Smith's father in 1720. Two months before Smith was born, his father died, leaving his mother a widow.[13] The date of Smith's baptism into the Church of Scotland at Kirkcaldy was 5 June 1723[14] and this has often been treated as if it were also his date of birth,[12] which is unknown.
Although few events in Smith's early childhood are known, the Scottish journalist John Rae, Smith's biographer, recorded that Smith was abducted by Romani at the age of three and released when others went to rescue him.[b] Smith was close to his mother, who probably encouraged him to pursue his scholarly ambitions.[16] He attended the Burgh School of Kirkcaldy—characterised by Rae as "one of the best secondary schools of Scotland at that period"[15]—from 1729 to 1737, he learned Latin, mathematics, history, and writing.[16]
Formal education
Smith entered the University of Glasgow when he was 14 and studied moral philosophy under Francis Hutcheson.[16] Here, Smith developed his passion for liberty, reason, and free speech. In 1740, Smith was the graduate scholar presented to undertake postgraduate studies at Balliol College, Oxford, under the Snell Exhibition.[17]
Smith considered the teaching at Glasgow to be far superior to that at Oxford, which he found intellectually stifling.[18] In Book V, Chapter II of The Wealth of Nations, Smith wrote: "In the University of Oxford, the greater part of the public professors have, for these many years, given up altogether even the pretence of teaching." Smith is also reported to have complained to friends that Oxford officials once discovered him reading a copy of David Hume's A Treatise of Human Nature, and they subsequently confiscated his book and punished him severely for reading it.[15][19][20] According to William Robert Scott, "The Oxford of [Smith's] time gave little if any help towards what was to be his lifework."[21] Nevertheless, Smith took the opportunity while at Oxford to teach himself several subjects by reading many books from the shelves of the large Bodleian Library.[22] When Smith was not studying on his own, his time at Oxford was not a happy one, according to his letters.[23] Near the end of his time there, Smith began suffering from shaking fits, probably the symptoms of a nervous breakdown.[24] He left Oxford University in 1746, before his scholarship ended.[24][25]
In Book V of The Wealth of Nations, Smith comments on the low quality of instruction and the meager intellectual activity at English universities, when compared to their Scottish counterparts. He attributes this both to the rich endowments of the colleges at Oxford and Cambridge, which made the income of professors independent of their ability to attract students, and to the fact that distinguished men of letters could make an even more comfortable living as ministers of the Church of England.[20]
Smith's discontent at Oxford might be in part due to the absence of his beloved teacher in Glasgow, Francis Hutcheson, who was well regarded as one of the most prominent lecturers at the University of Glasgow in his day and earned the approbation of students, colleagues, and even ordinary residents with the fervor and earnestness of his orations (which he sometimes opened to the public). His lectures endeavoured not merely to teach philosophy, but also to make his students embody that philosophy in their lives, appropriately acquiring the epithet, the preacher of philosophy. Unlike Smith, Hutcheson was not a system builder; rather, his magnetic personality and method of lecturing so influenced his students and caused the greatest of those to reverentially refer to him as "the never to be forgotten Hutcheson"—a title that Smith in all his correspondence used to describe only two people, his good friend David Hume and influential mentor Francis Hutcheson.[26]
Teaching career
Smith began delivering public lectures in 1748 at the University of Edinburgh,[27] sponsored by the Philosophical Society of Edinburgh under the patronage of Lord Kames.[28] His lecture topics included rhetoric and belles-lettres,[29] and later the subject of "the progress of opulence". On this latter topic, he first expounded his economic philosophy of "the obvious and simple system of natural liberty". While Smith was not adept at public speaking, his lectures met with success.[30]
In 1750, Smith met the philosopher David Hume, who was his senior by more than a decade. In their writings covering history, politics, philosophy, economics, and religion, Smith and Hume shared closer intellectual and personal bonds than with other important figures of the Scottish Enlightenment.[31]
In 1751, Smith earned a professorship at Glasgow University teaching logic courses, and in 1752, he was elected a member of the Philosophical Society of Edinburgh, having been introduced to the society by Lord Kames. When the head of Moral Philosophy in Glasgow died the next year, Smith took over the position.[30] He worked as an academic for the next 13 years, which he characterised as "by far the most useful and therefore by far the happiest and most honorable period [of his life]".[32]
Smith published The Theory of Moral Sentiments in 1759, embodying some of his Glasgow lectures. This work was concerned with how human morality depends on sympathy between agent and spectator, or the individual and other members of society. Smith defined "mutual sympathy" as the basis of moral sentiments. He based his explanation, not on a special "moral sense" as the Third Lord Shaftesbury and Hutcheson had done, nor on utility as Hume did, but on mutual sympathy, a term best captured in modern parlance by the 20th-century concept of empathy, the capacity to recognise feelings that are being experienced by another being.